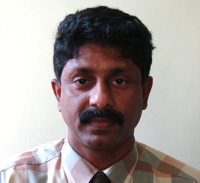 Address:
Department of Veterinary Clinical Science,
Faculty of Veterinary Medicine & Animal Science,
University of Peradeniya,
Peradeniya,20400
Contact:
Phone:(official and mobile): +94 718047701
Email: dangolla@vet.pdn.ac.lk
adangolla@gmail.com
Epidemiology
Zoo & wildlife animal medicine and reproduction
Feline medicine
Epidemiology, elephants, wildlife and animals in conflict with humans, dogs and cats
hemoparasites and Brucellosis in dogs and pigs, early warning and identifications of trouble making wild elephants
| Position | Current | Completed |
| --- | --- | --- |
| Project leader | Blood sampling pigs in a farm to detect hemoparasites | |
| Project leader | Blood sampling pigs and long term workers in a farm to detect brucellosis | |
| Project co-supervisor | Designing new methods including radiocollars to determine wild elephant movements | Blood levels of selenium in cattle in Sri Lanka |
Completed projects
Project Title: Blood levels of selenium in cattle in Sri Lanka
Date Range: 2015 - 2019
Funding Body:
Position: Co supervisor
| Position | MPhil. / PhD. | current | completed |
| --- | --- | --- | --- |
| Co supervisor | PhD. | 1 | 1 |
| Co supervisor | Mphi. | 1 | |
Completed supervisions:
Saranga Diyabalanage – completed PhD Selenium levels in soils and cattle in Sri Lanka
Sampath Jayathilake-on going MPhil Hemoparasites in dogs
Surendrani Cabral – on going PhD Solutions to human elephant conflict
Veterinary Problems in Sri Lanka – Indira Silva and Ashoka Dangolla. In: Biology, Medicine & Surgery of Elephants, Eds. Murray Fowler and Susan K Mikota, Blackwell Publishing, Iowa, USA, (2006).

---

---

ID Silva, A Dangolla and K Kulachelvy (2000). Mastitis, Brucellosis and Rinderpest in buffaloes in Sri Lanka: a comparison with cattle. In: Changing role of the buffalo in the new millenium in Asia (eds) Siriwardena JAdeS, Subasinghe DHA, Horadagoda NU and Abeygunawardena H. National Science Foundation, Sri Lanka. ISBN 955-8485-00-4.

---

---

CNSG Gamage, VY Kuruwita and A Dangolla (1999) Role of bacteria and the influence of fissures (cracks) in the aetiology of pododermatitis in the Sri Lankan elephant (Elephas maximus maximus linnaeus 1758). SL Vet. J. 46(1) pages 29-30.

---

---

---

---

---

ID Silva, A Dangolla and KFST Silva (1996). Preliminary analytical observations on persistency of milk yields in buffalo in Sri Lanka. Section on production systems and Uses. In: The role of buffalo in rural development in Asia. (Eds) Perera BMOA, Siriwardena Jade S, Horadagoda NU and Ibrahim MNM. NARESA press, Sri Lanka ISBN 955-590-007-8.

---

---

---

---

---

VY Kuruwita, DDN De Silva, ID Silva, LNA De Silva, A Dangolla, AB Abeysinghe, H. Abeygunawardena (1991). Surgical correction of blindness due to mature cataract in and Asian Elephant. SL Vet. J. 38: 25.